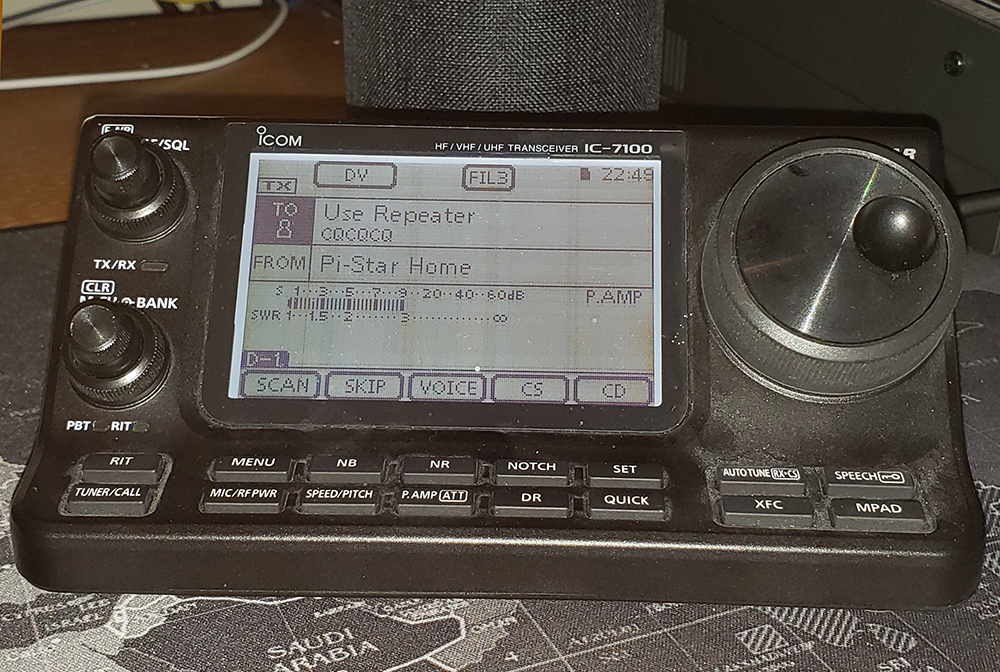 I've been doing this ham radio thing for about a year and a half now. I have a couple more observations to add to the blog post I wrote last year.
1. The amount of learning required to get started is not massive. You can get started with a relative minimum of technological knowledge and if that's all you want, you can do quite a bit. But…
If you want to get really good at it or learn the nitty, gritty details of how and why things work, it's a daunting task. I've said before that it's a bottomless pit of things to learn and from my perspective, it can be pretty overwhelming. Having said that, …
2. … established ham operators are, for the most part, more than willing to share their knowledge and experience if you just ask. If you pop up on the air with a question, chances are pretty good that you can get an answer or at the very least a clue about how to proceed. The experienced operators are a magnificent resource if you're stuck or just need an explanation of something you don't understand.
3. If you make a mistake and do something incorrectly, most hams are very forgiving. It's likely that they've made a similar mistake at one time and they don't hold your boo-boos against you. I still dread screwing up, but at least there's no ridicule from it.
So far as I know. (Maybe people are laughing and pointing at me on other channels.)
4. There's a Young Operators' Net on Sunday and there's an eleven-year-old young woman who runs the net. She's terrific and does a really top-notch job of net control. Hearing those young voices on the air leads me to believe that…
5. …ham radio is not a dead hobby. Far from it, matter of fact.
One of the things that surprised me when I finally dove into ham radio was that technology has advanced the amateur radio hobby into the 21st century. With at least three or four digital voice protocols and an untold number of digital data protocols, you can get a message through in any number of ways including the old standards like CW and SSB. There are orbiting digital satellites that ham operators can use. You can bounce a radio signal off the moon and back to Earth if you can figure out how to do that. You can even communicate with the astronauts on the International Space Station. If you're willing to put in the time to study how to use these modes of communication, you can do it.
Literally, the sky's the limit.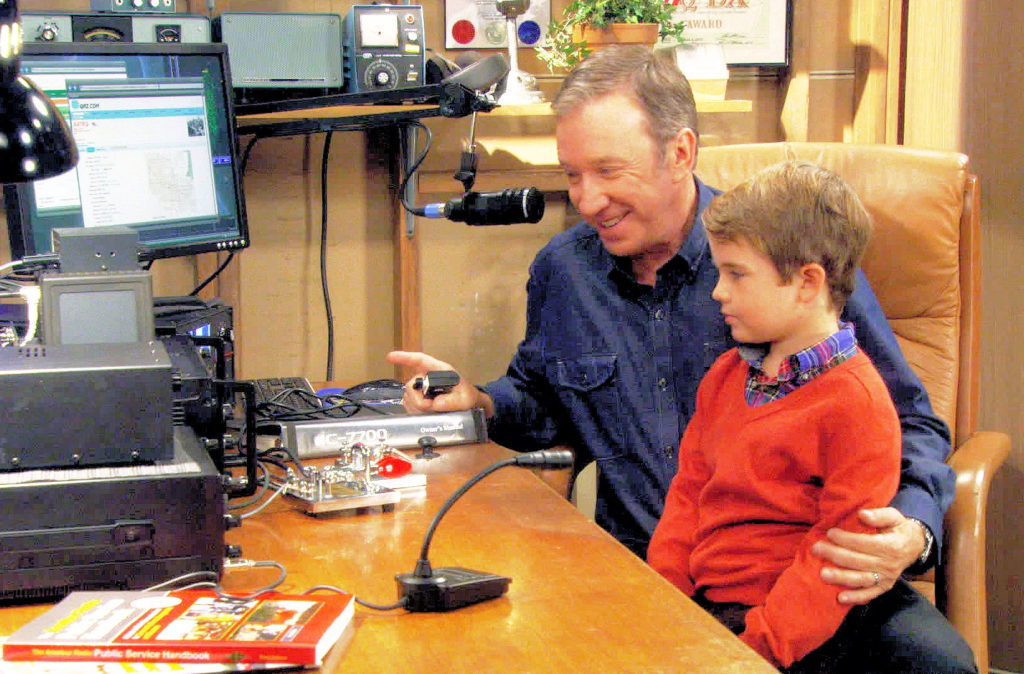 6. For we Hollywood types, there's a working ham radio shack on the set of "Last Man Standing," the TV show on Fox starring Tim Allen of "Home Improvement" fame. Every once in a while, I'm told that someone on set fires up the on-set radio and communicates with the rest of we mere mortal operators, though I've not had that pleasure yet.
Here's some more details: http://www.arrl.org/news/last-man-standing-moving-to-fox-network (The photo is from the article.)
7. You don't have to be crazy rich to get started. Once you are licensed, a new, entry-level handheld digital radio can be had for Amazon points, if you have enough of 'em. Even if you don't, you can get in for less than $100 if you watch the sales. If you're OK with used equipment, you can get in for about half that. If amateur radio interests you, cost need not be a barrier to entry.
8. Ham radio operators help during natural disasters. Here's an excerpt of an NPR piece about how amateur radio stepped up to help Puerto Rico in 2017:
MCEVERS: How many messages have you relayed since the hurricane hit?
DOBER: Myself about a hundred.
MCEVERS: Oh, wow. And what's – what are one or two that, you know, are you know you're going to remember for a long time?
DOBER: Honestly, there was one woman who – she just broke down in tears when I told her. And she actually called me back five minutes later and she basically asked me, you just called me. And what you told me, I want to hear it again to make sure I heard it right.
MCEVERS: And what had you told her?
DOBER: I told her that, yes, I did call you five minutes ago. And the news I gave you is the news that your loved one is OK.
MCEVERS: And so she just had to hear it one more time?
DOBER: She had to hear it one more time, yes. And like I said, as soon as I told her – and it's odd because you're telling people – I mean, I was calling people in California, in Texas. And you're telling them, hi, I'm from Pittsburgh, Pa., and I have news out of Arecibo for you or out of Puerto Rico. So for them it's kind of like, what? You know, that's not the way they're expecting to get their news.
Here's the whole article from NPR: https://www.npr.org/2017/09/29/554600989/amateur-radio-operators-stepped-in-to-help-communications-with-puerto-rico
Here's another article from NBC: https://www.nbcnews.com/news/latino/puerto-rico-amateur-radio-operators-are-playing-key-role-puerto-n805426
And one more from CNN: https://www.cnn.com/2017/09/27/us/puerto-rico-maria-ham-radio-operators-trnd/
9. I'll quote myself from the original set of observations on this one:
People are people everywhere. I've made this observation about every country I've physically visited, and the international amateur radio community is no exception. I've talked on the radio with people from several different countries. I marvel at the universality of the experience among the operators I hear on the air. Korea, Canada, The Philippines, Australia, the UK, South America. It really shouldn't surprise me how similar we humans are to our brethren ham operators around the world, but it did. It reinforces my contention that people are people no matter where you go. Governments may suck – and most do – but people are people everywhere. I find that very comforting.
This remains true and still amazes me every time.
10. This isn't an observation, but a shout-out to Jeff, aka VE6DV, from Canada who's just happens to be moving this week. He is our weekly net controller and runs the net superbly. He's all the things that's right about amateur radio. He's helpful, friendly and welcoming. And the net he runs has gained popularity because of the way he does it. He deserves public kudos so here they are.
11. One more shout-out, this time to Andrew Taylor, MW0MWZ, in the UK. He authors and maintains a software package which allows amateur radio operators to extend their reach from tens of miles to all the miles. His software makes worldwide communications easy to use. It's free and he's WAY more responsive to questions and answers than any professional tech support company. So thanks, Andy, for writing and maintaining Pi-Star. Well done!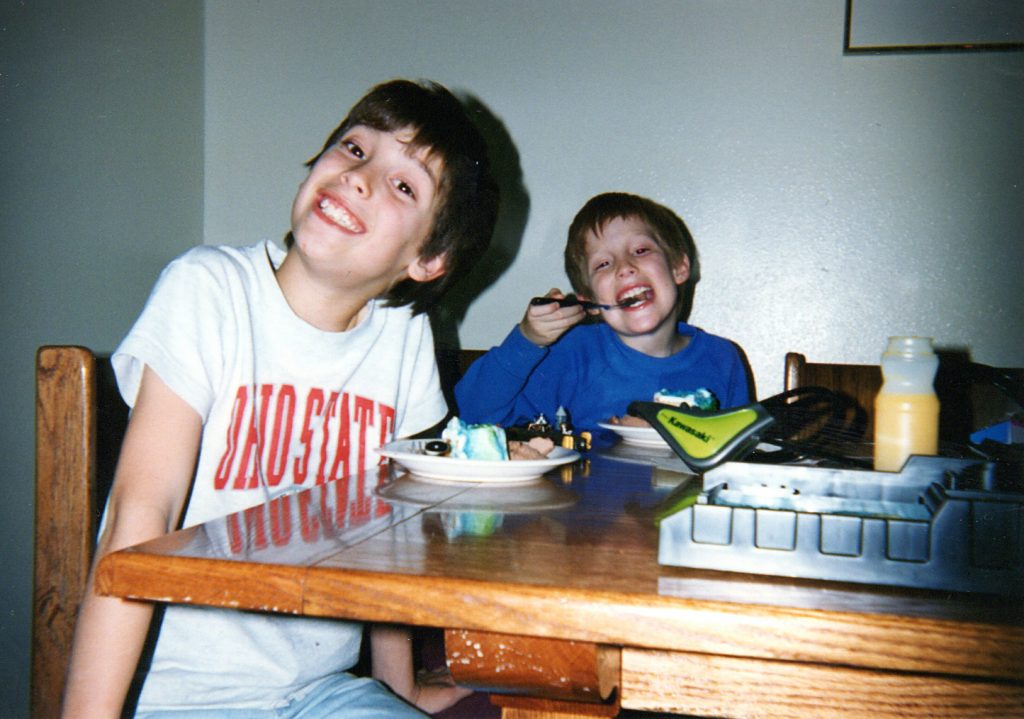 Bottom line for me: I am thankful that my son, Jon (left), poked me in the eye about my license awhile back. Jon, don't make the same mistake I did and wait 50 years to get your license. It's a great hobby and really tests my technical expertise every time I sit down at the radio. (That's other son, Andy in the background, circa mid '90's.)
If a person's brain really IS a use-it-or-lose-it proposition as we age, this is a great way to exercise the ol' noggin. Amateur radio is a great way to exercise your mind and help keep you sharp.
This concludes today's nerd alert.