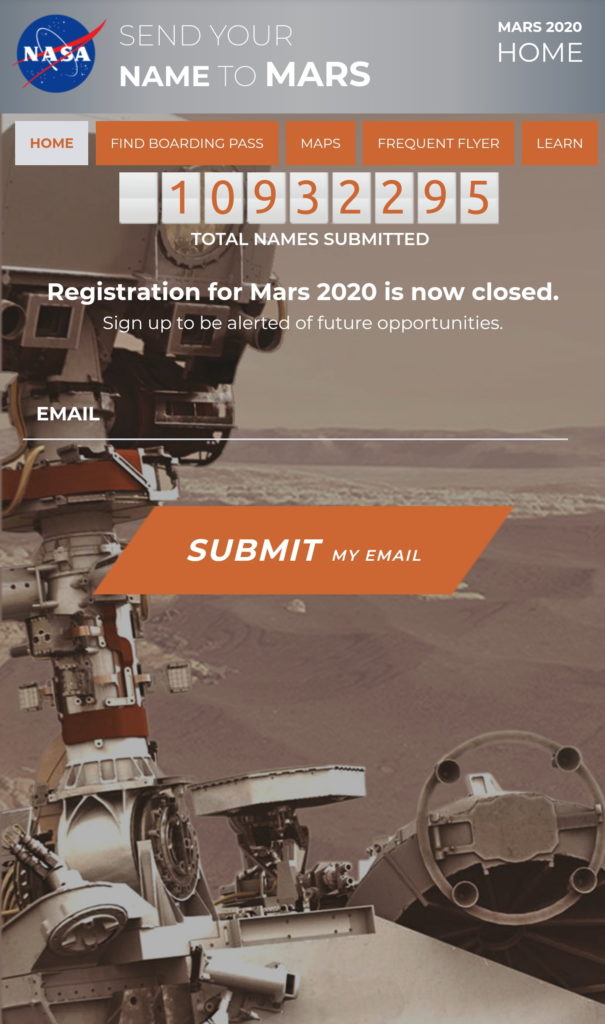 Back in September of last year, I stumbled across a NASA website describing the new Mars Lander scheduled for launch July 20 at 6:15 a.m. PDT (9:15 a.m. EDT). NASA offered the chance to send your name aboard the Mars Perseverance Rover etched into a chip placed on the rover.
I thought this was a terrific idea for the family, so I registered the four of us and, lo and behold, we four were among the 1.2 million names that made it.
NASA sent an electronic boarding pass for each of us verifying that our names would be making the 140-million-mile trip to the Red Planet, the average distance from Earth.  At its closest, Mars is roughly 38.6 million miles from Earth.  Since the path to Mars depends on many variables and is not a direct shot, I am not sure of the actual distance the Perseverance Rover will take to get to Mars. Edit: Turns out that the actual distance is printed on the boarding pass itself in the bottom right-hand corner. The Perseverance Rover will travel 313,586,649 miles on its journey from the Earth to Mars.
I thought the boarding passes looked really cool, and the rest of the family surprisingly agreed. I had intended to post them back then, but it didn't happen. However, today's the day! Better late than never, huh?
Here's more details about the mission from the NASA website:
"The Mars 2020 spacecraft with its Perseverance Rover will launch on an Atlas V-541 rocket from Launch Complex 41 at Cape Canaveral Air Force Station, Florida. The Atlas V is one of the largest rockets available for interplanetary flight. This is the same type of rocket that launched the InSight and Curiosity to Mars. The launch vehicle is provided by United Launch Alliance, Centennial Colorado."
And here's a mission fact sheet. You'll need a PDF reader to see this one.
Here are our four boarding passes. Nice to know that the family will be together for the duration, even if it is on another planet.
Many would likely agree that another planet would be just the right place for the four of us.